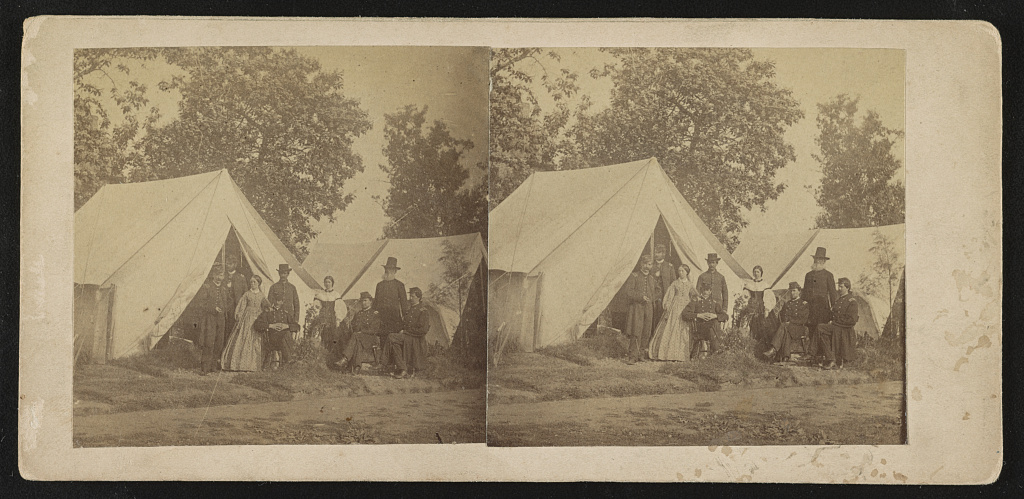 Note: I became interested in Obed Caswell and his brother Walter when writing a biography about their niece's husband, Civil War soldier Wells Waite Miller. I am still waiting for the Civil War service and pension records for the Caswell brothers and I expect their story to evolve as I learn more. Is an historical biography ever really "done"? Anyone who has information about Wells Waite Miller, his brother Lodowick, or Obed Caswell/Walter Caswell, please contact me!
Obed Caswell was the great-grandson of one Revolutionary War soldier and the grandson of another; the son of a man who fought in the War of 1812; a Civil War soldier in units in two different states; a college student at four different educational facilities, attorney, mayor, and judge; son, brother, husband, and father—with a bit of mystery tossed in for good measure.
Obed Caswell: Growing Up Years
Born on October 29, 1835 (or, less likely, in 1834) in Watkins, New York (now Watkins Glen), Obed lived in this village, located in the Finger Lakes area, for a short time—a village with a stunning gorge where a creek descends over 600 feet, creating gorgeous cascades.
Obed's parents were Thomas Caswell, Jr. (1793-1853) and Eleanor (née Force, 1796-1882). They married sometime around 1815 and had seven children. Besides Obed, they named their children Daniel, Walter, Calvin, Elisha, and Julia—and there was also another daughter. Several members of the family—including Obed and his parents—moved to the farming community of Castalia, Ohio in 1836, located by Sandusky in the northwestern part of the state. There, they lived on a 500-acre property.
Obed attended Oberlin College, located about forty miles from Castalia, where he pursued Latin or Greek. This town earned a reputation as being a hotbed of abolition, the town that started the Civil War, so Obed was certainly exposed to anti-slavery beliefs and the Underground Railroad while hearing the drumbeats of the upcoming war. He also received an education at Antioch College in Yellow Springs, Ohio. In 1858, he visited Marshalltown, Iowa for a short time, nearly 600 miles from his home—a place that played a big role in his life, later on.
Then, when President Abraham Lincoln put out a call for men to enlist, both Obed and Walter responded—and, when doing so, they followed in the footsteps of their father, a grandfather, and a great-grandfather.
Caswell Military History
When Obed and his brother Walter enlisted in the 8th Ohio Volunteer Infantry (OVI) in 1861 to fight for the United States in the Civil War, they followed a family tradition. Their grandfather, Thomas, had married Miriam (née Smith, born in 1756) in 1779 in Whately, Massachusetts—and both he and his father-in-law, Paul Smith, apparently fought in the Revolutionary War.
Thomas and Miriam's son, Thomas, Jr., fought in the War of 1812. He died in 1853 and, in 1879, Eleanor began to receive an $8 monthly widow's pension for his military service. So, fighting for their county was in the Caswell blood.
8th Ohio Voluntary Infantry: Obed Caswell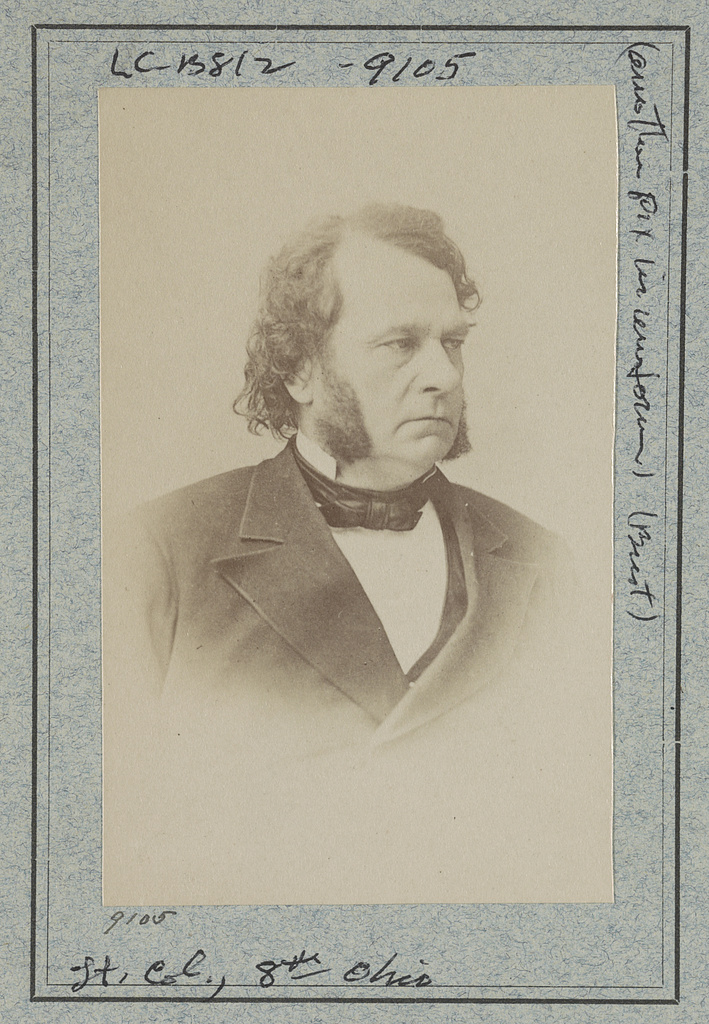 On April 24, 1861, Obed enlisted in the 8th OVI as a sergeant for three months. The 8th OVI's three-month roster listed Obed as 25, which would support the birth year of 1835. On the same day, Obed's older brother Walter (aged 28) mustered into the same unit as a private. Another future family member who also enlisted in the 8th OVI: 19-year-old Wells Waite Miller, who would marry their older brother Calvin's daughter, Mary Helen, in 1864. He enlisted as a first lieutenant, and you can find some of my research on Wells and his brother Lodowick at the Black Fork Review of Ashland University. (And here's something I wrote about Wells Waite Miller for fun!)
Returning to Obed's story, he completed his three-month term of service on August 18, 1861. Rather than re-enlisting in the same unit, as many men did, he enlisted as a second lieutenant in the 5th Iowa Infantry, Company D, on July 15, 1861 for three years (a cross-over of a month with his Ohio and Iowa service). This move apparently triggered some confusion, and we know this because Colonel W.H. Worthington of the 5th Iowa penned a letter to the state's governor, William Dennison, where he noted that he discovered how a lieutenant in his regiment—a man named "Obid Caswell"—was a sergeant in the 8th OVI, Company E.
In the summer of 1861, Obed had apparently been sent home with other men in his Ohio unit who hadn't signed up for three years, but he wasn't officially discharged. So, Colonel Dennison requested an honorable discharge, noting that Caswell hadn't thought it made a difference where he enlisted.
This apparently didn't harm his reputation in the unit because, on February 26, 1862, he was promoted to first lieutenant and, on July 14, 1862, to captain. He served through January 15, 1863, when he resigned. Action seen during his time with the 5th Iowa would have included the Battle of Island Number Ten, the Siege of Corinth, and the Battle of Iuka.
8th Ohio Voluntary Infantry: Walter Caswell
As for Walter Caswell, he mustered out of the 8th OVI on August 17, 1861, and then became an assistant surgeon for the 101st Ohio Infantry. Unit accounts with 101st Ohio mention him, including Colonel Leander Stem's account on November 16, 1862. There, Stem, Walter, and Major Wooster enjoyed a "first rate bath" in the "Cumberlin River." There the "water is clear and deep with a greenish cast which I have observed in all the waters nearly of Ky and Tenn. The banks here are high and rocky, the river pretty wide and the spot rather picturesque."
In an account from a soldier named Charles Barney Dennis from December 31, 1862/January 1, 1863, he mentions going to Walter for "relief" but, after he "probed the wound . . . I believe [that] caused the only real pain it ever gave me. He located the bullet and identified the type." Dennis also received advice from Walter to "keep on my feet all that I could, notwithstanding that for two days the wound bled pretty freely."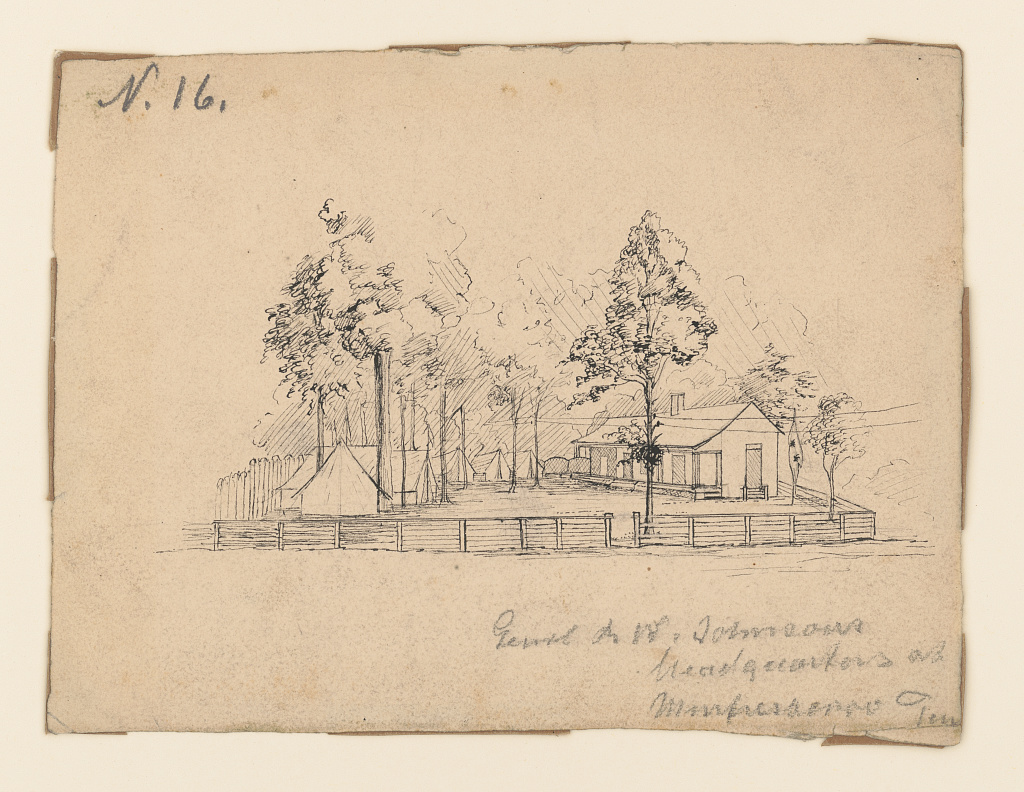 During a bloody three-day battle near Murfreesboro in January 1863, the unit had 219 men killed or wounded, which included seven officers. As part of the commanding officer's report was this text: "The regiment is particularly indebted to Asst. Surg. Walter Caswell for gallantly staying by them under the heaviest fire." Walter served through July 28, 1863, when he resigned because of disability.
Note About Wells Waite Miller
He stuck with the 8th OVI. Promoted to captain of Company H on March 11, 1862, he fought with the unit through July 3, 1863, when he was severely wounded at Gettysburg during what's now called Pickett's Charge. Not necessarily expected to survive, Wells was honorably discharged in January 1864. A prisoner of war from November 1862 through May 1863, he had fought in Antietam along Bloody Lane, and was put in charge of captured Confederates from that battle, but he missed the fighting in Fredericksburg, being in Camp Parole in Maryland.
Obed Caswell: Post-War Years
After Obed resigned from the 5th Iowa, he attended law school at the University of Michigan and Albany Law School in New York. After he graduated from the latter, he received admittance to the Supreme Court of the State of New York. In 1864, he began practicing with J.H. Bradley and, when Bradley was elected to a judgeship, he practiced with J. F. Meeker; the Caswell and Meeker partnership lasted for thirty years. Obed also owned part of the "old Cooper & Speer's grocery, then known as 'The Fifth Iowa.'"
During this time, he married Mary Elizabeth Jackson—either in February or May 1864—from Altay, New York. Born on February 12, 1840, she was about five years younger than her husband. The couple had three children: Leona M. in 1865; Margaret E. in 1870; and Charles Clyde in 1877.
Obed continued practicing with Caswell and Meeker until 1888 when he went to California for health reasons. After he returned to Iowa two years later, he practiced law until 1896 when Governor Drake appointed him to fill the judicial vacancy in the 17th District. He was elected and re-elected for two full terms and was also nominated for another one by the Republican Party before ill health interfered. He also belonged to the Frank M. Thomas Post, No. 94, Grand Army of the Republic (G.A.R.), as well as the Marshall County Bar Association. He was "a member of no secret orders."
Obed Caswell: Legal Matters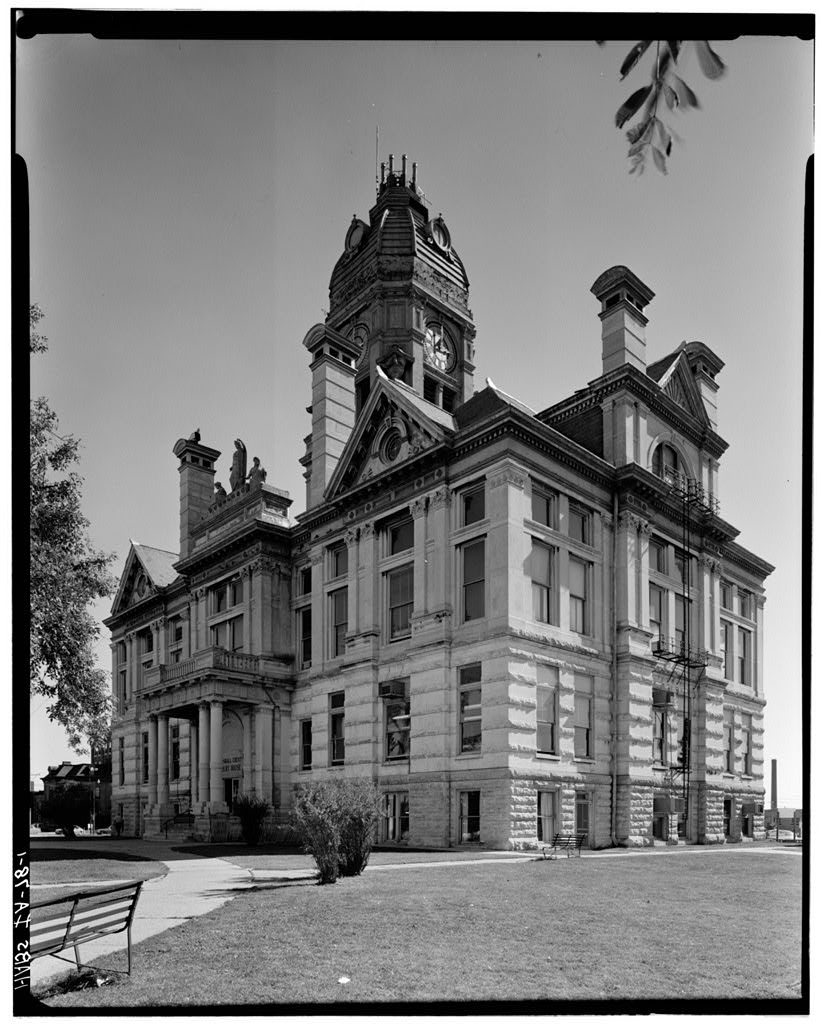 As an attorney, Obed gained attention when defending a woman accused of a horrific murder. As a judge, he declared the soldiers' preference law to be unconstitutional, which stirred up controversy. When the plaintiff appealed his decision at the Supreme Court, it was overturned. These two cases seem most attached to his legacy, so here are more specifics.
Emily Bennett hired him to represent her when she was accused of the brutal murder of 20-year-old Anna Wiese on August 26, 1893. Anna worked on the farm of Henry and Rebecca Russie and, on that evening, she walked half a mile to visit Arthur and Laura Hill. She left to return to the Russie farm at about 10 p.m. and, shortly after that, neighbors heard screams. Henry Russie and the teen taking care of his sick foal ran to investigate.
They found Anna lying in a ditch at about the midpoint, by the Bennett farm and, initially in the darkness, they thought she'd fainted. Blood soaked the top of her dress, her throat was slashed, and her chest stabbed. Clearly, Anna had been murdered—but by whom? More than one male was accused before Emily Bennett was arrested and indicted on November 9. Emily, according to the Cedar Rapids Evening Gazette was a "rough, mannish sort of woman, capable of desperate deeds, perhaps like some women under the sway of strong passion."
On November 14, Emily's legal team of Obed and Oliver L. and Ernest Fawcett Binford pled "not guilty" on her behalf. In January 1894, Obed pushed for an exhumation where they removed a hair sample clutched in Anna's hand. It didn't seem to match Emily's hair and some people accused Obed of having that hair placed in Anna's hand to help his client via a secret exhumation.
Obed presented the case for the defense and, when nine jurors wanted to acquit and three to convict, the case was dismissed when a juror became seriously ill. In her second trial, Emily was acquitted, and the murder of Anna Wiese remains unsolved.
Obed Caswell: Judicial Matters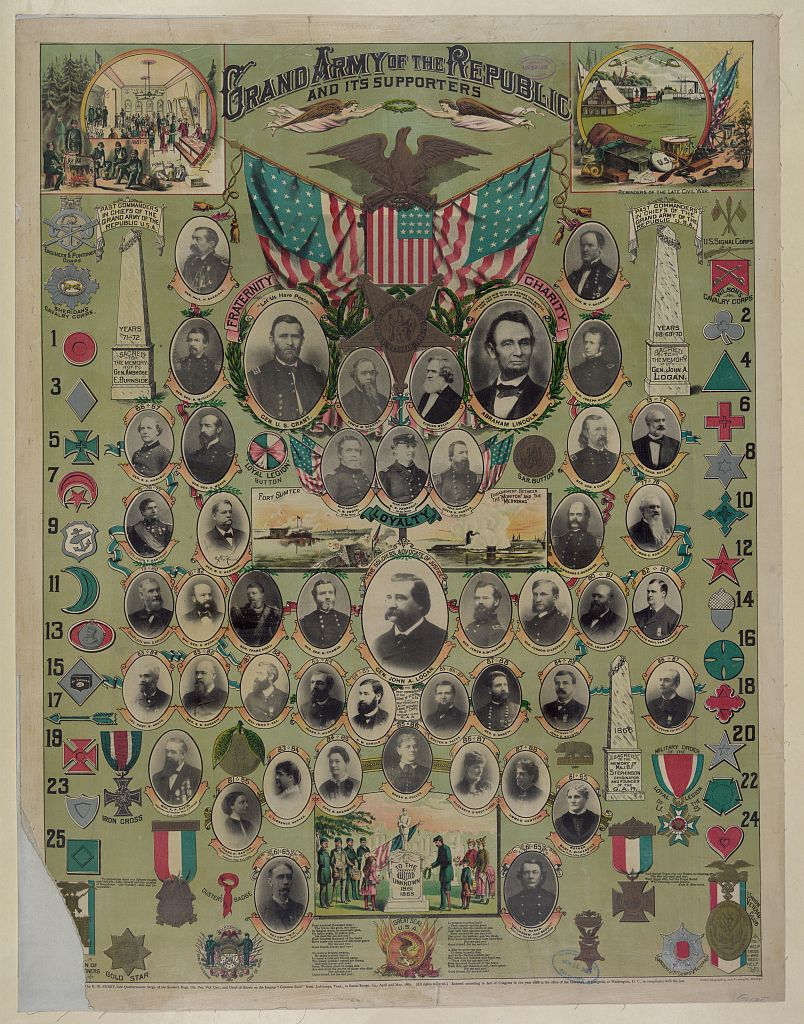 Next up was the controversy about the soldiers' preference law heard in Obed Caswell's courtroom. This law would affect the process of appointing people to public offices throughout Iowa, from township positions to state offices—and plenty in between. This law stated that, when making appointments, Civil War veterans should be given preference.
An "old veteran" named Mr. Shaw tested this law in Marshalltown, believing that the newly enacted law gave him preference for a town council position, but it was given to L. Derby who had not served in the Civil War. Shaw appealed to the district court where Obed Caswell ruled against him, calling the law unconstitutional because it was "class legislation."
Although many thought Obed to be correct in his assessment, a fraternal organization for Civil War veterans, G.A.R., backed Shaw and he appealed to Iowa's Supreme Court. After a few months, in a split decision, the Supreme Court overruled Obed's ruling, and Civil War veterans could be given preferential treatment when public appointments were being made.
Mary Caswell's Death
On February 3, 1901, Mary Caswell died of influenza and pneumonia. She'd attended church one Sunday and, the following day, felt sick enough to take to her bed. By Friday, she was seriously ill and died on the following Sunday. As was typical for many women's obituaries of this era, the text praised Mary for her kindness. The obituary listed her membership in the "Baptist church, of the Ladies Reading Circle of the Women's Relief Corps, and of Organized Charities."
Somewhat more poetically, the obituary notes how she was a "ministering angel to the poor. But it is in the home circle that she will be especially missed, as she knew her first duty was to the home and her family, to which she was uncommonly endeared."
Obed Caswell's Legacy
After completing his second judicial term and nominated for a third one, he died suddenly on July 7, 1906 from stomach cancer that had spread to his liver and "other vital organs." Although his illness had been known, "slowly sapping his vitality" for a year and a half—especially after he fainted on the bench in March—the suddenness of his death shocked friends and family members.
His death truly did come suddenly. Just half an hour before it occurred, he was reading on his porch and considered going for a ride. When struck by intense pain, he called out and his two daughters took him to his bed, supporting him at the edge until he became unconscious. His son and the doctor who'd been summoned by phone arrived before he died but Obed didn't regain consciousness.
His obituary lists him as an early settler of Marshalltown as well as its first solicitor from 1868-1872 and its mayor before it became a city, appointed in 1877 to finish out the term of John Fisher who died while in office.
Judge Caswell's Eulogy
The Evening Times-Republican eulogized him this this way:
Judge Caswell had become one of the prominent circuit judges of the state, among whom he ranked high as an interpreter of the law. His decisions of law points were generally considered sound and were given only after the greatest deliberation. He insisted on all cases being tried only in the court room, and steadfastly refused when outside of the court  room to discuss cases, which were up for trial. He was eminently fair and most conscientious, and while a man of            pronounced likes and dislikes, his opinions have been upheld by higher tribunals with remarkable regularity. He despised sham and false pretenses and those dilatory and questionable methods frequently employed by lawyers seeking to gain  advantage by continuances, delays and other means. During his terms of court he insisted that all the cases docketed,  should, unless there was good cause for delay, be tried out. As a result of these methods the terms over which he presided were notable for the business transacted. . . . He refused to stoop to methods which are frequently used to secure political preference, and his independent and outspoken opinions created opponents who sought to remove him from the bench but were unsuccessful.
Interestingly enough, the newspaper noted that he wasn't "successful in the making of money especially."
What's Known About Walter Caswell, Post-Service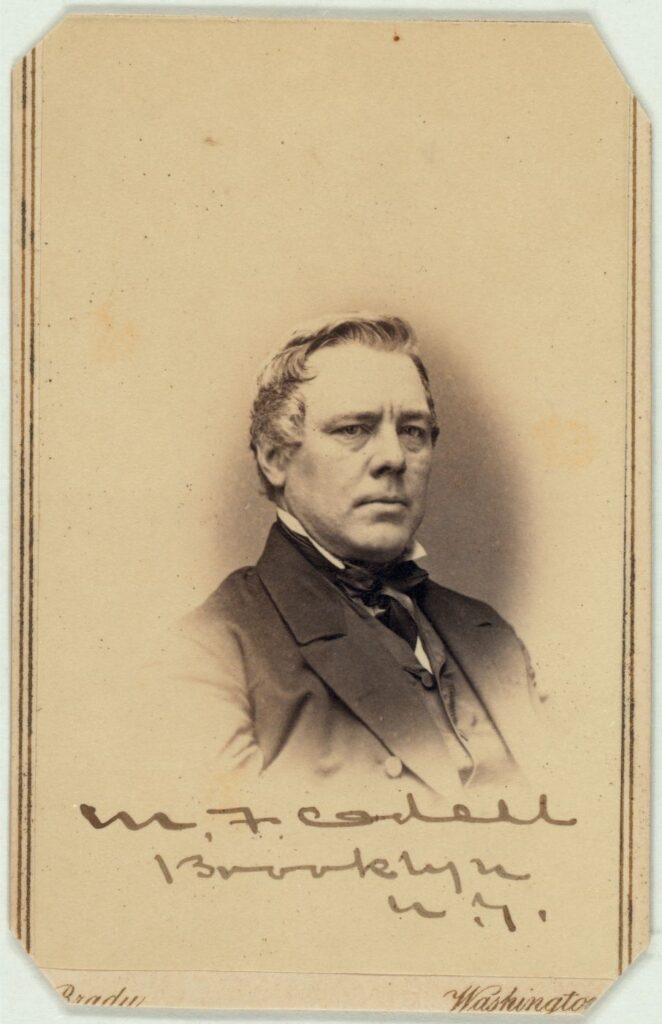 The short answer is as follows: less than what's known about Obed. On May 12, 1863, Walter married Emma Purdy in Myrtle Lawn, New York, near Bronxville; she was listed as the adopted daughter of Moses Odell, Esq. The pastor: the Reverend Mr. Aldrich from Mount Vernon.
This wedding made The New York Times, which seems to confirm that Walter's father-in-law was Congressman Moses Odell. He served as a public appraiser for Democratic President Franklin Pierce after working as a clerk in a patronage appointment under President James Polk. He won his House of Representative seat in New York in 1860 and served as the chairperson of the Treasury Department Committee. In December 1861, he joined the Joint Committee on the Conduct of the War, a Democratic serving among Radical Republicans. When re-elected, he was on the Military Affairs Committee where "he exerted unusual Democratic influence in investigation of Union military personalities and operations"; during this term (that lasted through March 3, 1865) Walter and Emma married. Odell declined to run a third time, working as a New York port naval agent for a short time before dying of cancer on June 13, 1866.
Walter lived for nearly another 30 years, dying in Brooklyn, New York on December 8, 1893. Because he was born in in either 1831 or 1832, he lived to be about 61 years old.
Women and the Civil War
Here's a nonfiction book proposal that I wrote on the subject.